​10k TROOPERS Run – Thursday March 17th, 7:00AM Mariott Hotel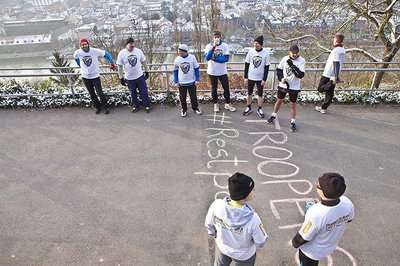 TROOPERS15 saw the largest group of runners yet! 24 people participated, raising 1,200EUR for our TROOPERS16 Charity Campaign! Thank you!
Since this TROOPERS classic isn't going anywhere you have plenty of time to put on a pair of running shoes (although one person did the run in dress shoes!) and level up so you too can participate in the 10K up the Philosopher's Way! 
Do you have what it takes??? See the details for TROOPERS16 below;
We will host a 10k run on the morning of March 17th 2016. Our fearless leader Enno will lead TROOPERS up the historic Philosopher's Way (also a great time/place to take pictures!) We will meet at 7am in the lobby of the Marriott Heidelberg.
And don't forget that for every kilometer achieved by a TROOPER during the 10k  TROOPERS Run, ERNW is donating 5 € into the funding pool!
Check out last year's TROOPERS15 Charity Campaign to see the amazing causes we raised the funds for.